Chronology
Geographic Area
Subject, Genre, Media, Artistic Practice

Writing in 1964, the Algerian painter Mohammed Khadda (1930–1991) identified "that day in 1910 when the Russian artist [Wassily] Kandinsky created the first nonrepresentational work" as marking the birth of "nonfigurative (or abstract) painting." (Note: For the sake of consistency, I have used the exhibition curators' transliteration of artists' names.) Published in Révolution africaine, the National Liberation Front's weekly newspaper, Khadda's piece was the first of three artists' statements titled "Éléments pour un art nouveau" (Elements for a new art), in which the authors grappled with the question of the role of the artist in the postindependence state. While he does not name the specific Kandinsky painting, Khadda's assessment is very much in line with the dominant narrative surrounding the origins of abstraction. It is striking, then, that Barjeel Art Foundation curator Suheyla Takesh chose this example as the departure point for her introductory essay to Taking Shape: Abstraction from the Arab World, 1950s–1980s, an exhibition intent on rethinking "the attribution of abstraction's emergence to a single historical moment" (25). (In the introduction she assumes Khadda was referring to Kandinsky's Untitled [Study for Composition VII, Premiere abstraction], which most art historians have dated to 1913.) In doing so she reveals, perhaps unintentionally, a tension that confronted many Arab artists in the decades following decolonization as they sought to develop new, "authentic" visual languages that were nonetheless conversant with international movements.
Taking Shape, cocurated by Takesh and the Grey Art Gallery's Lynn Gumpert, was no doubt an extraordinary opportunity to see an impressive collection of works, mostly paintings, drawings, and prints, by some of the region's most prominent artists. A few of them—notably female artists of Lebanese origin such as Saloua Raouda Choucair (1916–2017), Etel Adnan (b. 1925), Simone Fattal (b. 1942), and Huguette Caland (1931–2019)—have become increasingly familiar to Western audiences in the last decade, but regrettably most remain unknown outside of their regional context. (Retrospective exhibitions for Choucair and Caland took place at the Tate Modern in 2013 and Tate St. Ives in 2019, respectively; MoMA PS1 hosted a large solo show for Fattal in 2019.) Takesh and Gumpert posited the exhibition as an interrogation of the study of "abstraction across different contexts" and a questioning of the "modes of analysis" adopted by scholars and curators, a contribution to the decades-long debate surrounding the relationship between modernism and non-Western art. However, this pursuit remained nebulous and underdeveloped beyond a few well-worn declarations about "rethink[ing] art-historical canons and expand[ing] the discourses around global modernisms." This was reflected in the exhibition's obscure curatorial logic; there was no organizational schema—be it chronological, thematic, or even national (the most obvious and least desirable)—to guide visitors through the expansive two-floor display of ninety works by fifty-five artists produced over three decades (1955–87). The viewer was able to glean only fragmentary glimpses of a broader context from the wall texts, which otherwise perpetuated a sense of confusion, tending toward a seemingly arbitrary compilation of biographical information and brief reflections on the artist's practice, sometimes but not always relevant to the exhibition's concerns.
As the curators of Taking Shape correctly point out, the exhibition covered a period of tremendous transformations in the region. However, it was not clear how discourses surrounding abstraction changed throughout these tumultuous decades. The hope and optimism of the 1950s and 1960s had all but vanished by the 1970s as prolonged conflicts ravaged the region following the 1967 Naksa (Defeat) and the widespread failure of socialist experiments, the shift toward neoliberalism, and the rise of Islamist movements. In other words, if abstraction developed primarily as the visual language of decolonization, how did conceptions of this vocabulary evolve in subsequent years? Moreover, how did experimentations with abstraction vary throughout the geographical expanse of the region, conceivably shaped by disparate decolonial experiences? For example, while some Egyptian artists did explore abstraction in the 1950s and 1960s, a socialist realism shaped by the Nasserist project and focused on representing workers and peasants—as exemplified by the work of Hamed Ewais, Gazbia Sirry, and Inji Efflatoun—was much more prevalent. However, on the (cultural) Cold War that cast a heavy shadow over the region during the exhibition's timespan, and the now well-documented use of abstract art by the CIA, through its Congress for Cultural Freedom (CFF), to promote US political interests throughout the Global South, Taking Shape was remarkably silent. Delineating some of the regional differences would have helped situate abstraction within a larger cultural fabric, underscoring the dynamic national and intraregional debates that engaged artists and intellectuals. Only by turning to the accompanying catalog—comprising eight essays and superb reproductions—could a newcomer begin to situate the works on display within a broader regional art historical narrative, although there, too, are notable absences.

Throughout the exhibition, calligraphy emerged as a consistent motif, a source of inspiration that Arab artists return to time and again, experimenting with it in a variety of ways in their search for a new visual lexicon rooted in regional traditions. Hurifiyya (letterism) often sought to liberate the Arabic language from its sacred connotations, distancing itself from Islamic calligraphy, seeking instead a pan-Arab artistic form. As early as 1949, the Syrian Iraqi artist Madiha Umar (1908–2005) was exploring the dynamic personality of each letter and its ability to convey an idea in abstract design. In her 1978 Untitled watercolor, overlapping and interlocking crescent-shaped forms sweep across the canvas from every direction, capturing an energy that is at once captivating and harmonious. A trained calligrapher, Algerian artist Rachid Koraïchi creates ink paintings on clay and wood that are themselves a devotional practice. Arabic and Chinese characters are layered in a cross-cultural encounter, the texts' varied density creating a textured dialogue between the separate components. Drawn to Arabic letters for their musical as well as formal qualities, Omar El-Nagdi, in Untitled (1970), reenacts the entrancing repetition of Sufi rituals. Bold black strokes—resembling both the first letter of the Arabic alphabet (alif) and the Indian numeral one—dance in endless rhythmic repetition across a light, contrasting canvas. By contrast, Kamal Boullata's later calligraphic experimentations are almost graphic, plotted on a grid and recalling both the geometric patterns of Islamic architecture and traditional Palestinian tapestry. In a series of silkscreens, he incorporates entire phrases, borrowed from sacred texts, manipulated and rendered almost illegible in Kufic script.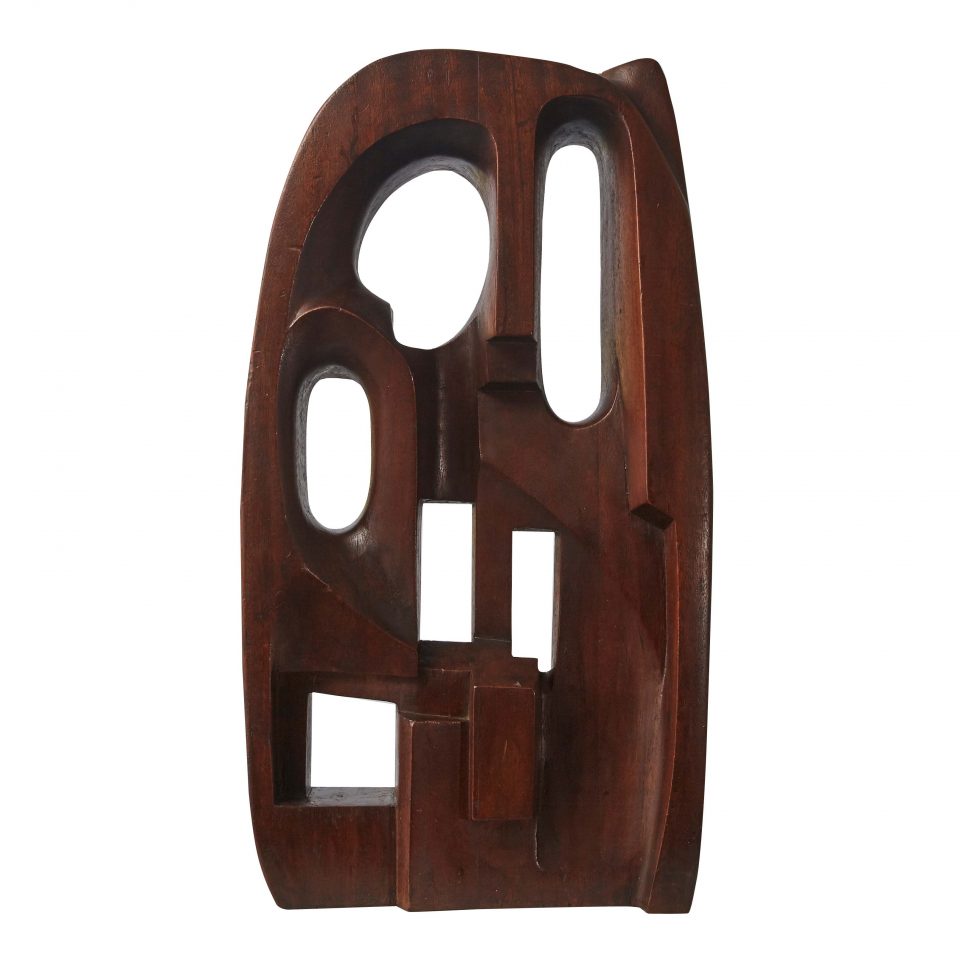 Saloua Raouda Choucair, Interform,
1960, wood, 23 5/8 × 12 5/8 × 4 1/2 in. (60 × 32 × 11.4 cm). Barjeel Art
Foundation, Sharjah, UAE (photograph provided by Grey Gallery)
Choucair's Interform (1960), surprisingly the exhibition's only sculpture, is a nod to architectural design, and yet it refuses to be confined by any identifiable referents, instead exploring a certain presence and movement created through absences. In City II (1968), Caland creates a cityscape densely populated by an array of bodies, perhaps architectural, possibly human, the separation between the corpus and its surroundings in constant dissolution.

Some of the most striking works in Taking Shape were the bold, colorful paintings by key figures from the Casablanca School (est. 1965)—Farid Belkahia (1934–2014), Mohamed Chebaa (1935–2013), and Mohamed Melehi (b. 1936). Rejecting the notion that representational and figurative painting connoted realism, the group turned to geometric ornament, inspired by their Arab and African traditions, for a more authentic, realistic expression of contemporary Moroccan reality. Challenging the distinction between arts and crafts, their works recall the patterns and structures found in engravings, mosaics, and carpets, as well as the dynamism of Arabic calligraphy. Their experimentations were not only formal; members of the Casablanca School were committed to dismantling barriers that separate audiences from artwork. In 1969 they organized a ten-day outdoor exhibition in Jemaa el-Fna in Marrakech, which marked the beginning of the group's interest in direct public engagement. The Casablanca School produced numerous manifesto-like texts, informing audiences of their commitments and concerns. Including some of this material alongside the artworks would have enhanced viewers' appreciation of the debates and stakes for these artists.
Unfortunately, Taking Shape repeatedly missed the opportunity to create a dialogue between the visual and textual, one that was fundamental for many of its featured artists. Membership of collectives like the Algerian Aouchem demonstrates that visual artists were not alone in their pursuits of abstraction; instead, the cross-media nature of the exploration was imperative. Journals like the Moroccan Souffles and the Egyptian Gallery 68 were crucial forums for development of contemporary artistic and literary movements. Similarly, artists working with abstraction were featured in both the CCF-sponsored, Beirut-based Al-Hiwar and the Soviet-supported Lotus: Afro-Asian Writings published in Cairo.
The insularity of the exhibition—that is, the absence of any material external to the Barjeel collection—attests that Taking Shape was primarily concerned with showcasing and promoting the foundation's acquisitions and enumerating the scale and scope of its coverage. Founded in 2009 by social media commentator cum art collector Sultan Sooud Al Qassemi, the Sharjah, United Arab Emirates–based foundation boasts one of the largest collections of modern and contemporary art from the Arab world and is steadily establishing a monopoly over the exhibition of art from the region within the United States. However, Taking Shape exemplifies the limitations of being curatorially beholden to one collection; the ambitious goals of the exhibition would have been better served through a multiplicity of voices.